Woolfest 2019
Once again our society hosted a breed stand at Woolfest in Cockermouth.
Woolfest is the original British festival of wool now in its 15th Year.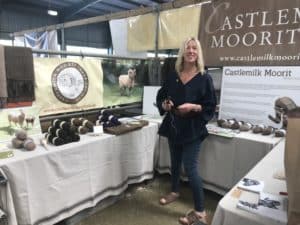 It is run by the Wool Clip, an an award-winning co-operative made up of local wool workers. Formed in 2001 today they have 14 members who run the thriving Wool Clip shop in Caldbeck and organise Woolfest.
Over 4,000 members of the public attended the event this year. There were over 200 vendors selling everything from spinning wheels and looms to highly professional crafted goods and clothes, hand woven baskets, Cumbrian wool carpets and all manner of haberdashery supplies. There was a fantastic range of 20 sheep breeds together with alpacas and angora rabbits.
There is an area where raw fleeces can be placed for sale and examined by hand spinners before they buy. A few fun workshops ran, an evening knit and spin in, demonstrations including, amongst others, speedy warping, wet felting, Tunisian crochet, drop spindling and Dorset button making.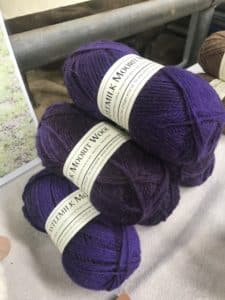 There was lots going on in the main ring – sheep shearing, talks about fleece, parade of animals etc.  A spin in takes place on the Friday evening where spinners can gather and puruse thier craft in the company of like minded individuals.
Fellow members, Dan & Heather Procter together with Rowan, Sue & Tim, brought some lovely Boreray and Soay sheep to grace our stand. They really went the extra mile this year by purchasing 2 beautiful Soay ewes with lambs at foot to ensure that both breeds were represented at Woolfest.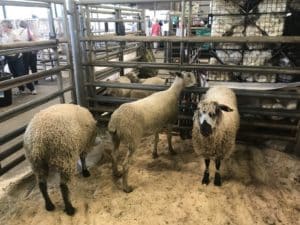 They live at Marlfield Farm on the North Yorkshire and Lancashire border where Shetland, Boreray and now Soay sheep graze and grace the fields.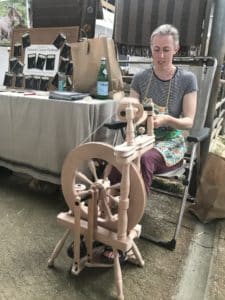 The society breed stand was busy with members of the public asking questions about the sheep and the use of their fleeces.
We illustrated all stages of production from the sheep themselves, raw fleece, washed fleece,  demonstrating carding spinning through to knitted and woven end products.