Shepherds Hut
Spend time relaxing in the secluded surroundings of the hut with it's private lake.
Cosy interior of hut with comfy bed & log burner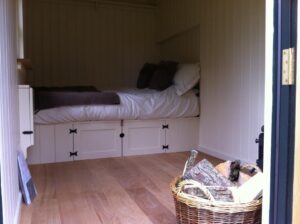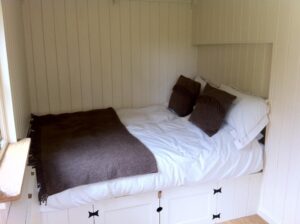 The hut is located beside the Secret Pond, which is surrounded by trees and very secluded.  Ideal for those couples seeking privacy.  Don't worry if the weather's wet (just for a change!) as wellies are supplied.
The lake is stocked with fish so will appeal to anglers.  No one has fished there for at least 8 years so the fish are in good condition.
The hut is well appointed with a 6'6″ long and 4'6″ wide bed and mattress, small wood burning stove and other comforts.
The luxury utility room (electric sockets, kettle etc) with adjacent power shower (unlimited hot water!), basin, fully flushing toilet are in the stable block a 2 minute walk away (approx 200m).
The hut itself is totally private and with no plumbing or electricity – so it's a real back to nature experience.
We have placed squirrel feeders at the site to encourage the red squirrels which are abundant on the farm – several have been sighted here.
Breakfast is served in the farmhouse hall and guests are welcome to sit here at any time.